Delighted đi với giới từ gì? Delighted with, at, by, for hay about? là câu hỏi chung của rất nhiều người. Để hiểu hơn về ý nghĩa, ngữ pháp cũng như cách sử dụng "Delighted" trong Tiếng Anh như thế nào, hãy cùng Ngolongnd.net tìm hiểu chi tiết ngay trong bài viết dưới đây.
Delighted with, Delighted at, Delight with, Delighted meaning, Delighted nghĩa là gì, Delightful, Embarrassed đi với giới từ gì, Confident đi với giới từ gì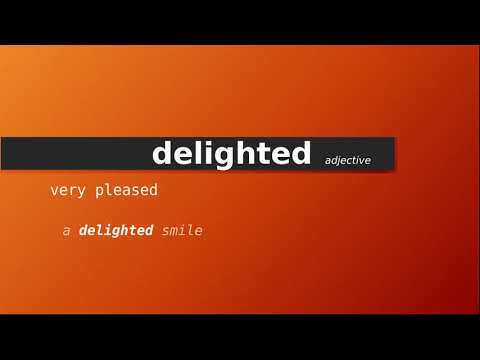 Delighted là gì?
Từ gốc của Delighted là Delight.  
Delighted là một tính từ trong tiếng Anh, có nghĩa là vui mừng, phấn khích, hân hạnh. Ngoài ra, đây cũng là dạng quá khứ của động từ Delight, mang nghĩa là (cái gì, ai) đã làm cho ai cảm thấy vui sướng.
delighted
Delighted được coi là 1 tính từ, mang ngữ nghĩa là hạnh phúc, phấn khích, hân hạnh và vui mừng. 
Bên cạnh đó, Delighted cũng là dạng quá khứ của Delight, diễn đạt nghĩa là (ai hoặc cái gì) đã khiến cho ai cảm thấy vui mừng, phấn khích.
Delighted đi với giới từ gì?
Delighted at 
They were highly delighted at the court's decision.
Delighted by 
I'm delighted by your news.
I was delighted at/by your news.
Delighted with
He's really delighted with his new CD player.
Pat was delighted with her new house.
Delighted + to + V
We'd be delighted to come to dinner on Friday.
Độ phổ biến của giới từ sau Delighted
In 72% of cases delighted with is used
We're delighted with the results.
Comments Delighted with that draw.
Everybody was delighted with Helen.
Delighted with this power, he touched the branch of a tree and it turned to gold.
Everybody there was delighted with Helen, and showered her with gifts and kisses.
I was delighted with the audio quality on voice calls, including the speakerphone.
Delighted with the plan, Joe set off up the steep hill from Crowcombe, with one of Maggie's baskets on his arm.
Barry H (Birmingham) Delighted with the level of service and would strongly recommend Advance Legal, thank you.
I bought myself a low mileage Vectra Estate in immaculate condition and I ' m delighted with my purchase.
Meanwhile, across the Pacific, American fans will no doubt be delighted with the performance of Michael Phelps.
In 11% of cases delighted at is used
I think we should be delighted at.
We were delighted at the prospect.
People were delighted at knowing this.
I was so delighted at the thought of reaching land that, after much persuasion, Mr.
We know of at least one of our Twitter followers who will be delighted at the news.
She had struck it with a spatula and delighted at the resonating clang it gave out.
We began the evening with a search for the resident owl in the oak trees and were delighted at several sightings.
Complimented and delighted at the promise of the reality of experience I thanked him and accepted his invitation.
These believers, I assume, were delighted at the news that God was being glorified (increasingly) in the nations.
Her parents, Fionnuala and Eugene are delighted at Rebecca's progress in the sport and are very supportive of her.
In 6% of cases delighted by is used
I am delighted by your service.
I'd still so delighted by Zigmund.
The pastor was so delighted by the large-heartedness and response of his congregants.
Visitors to Jamaica are usually very delighted by the unique and tasty Jamaican food.
Perhaps, when millions of people have been charmed and delighted by Susan Broyles, Mr.
I am delighted by your response to our call to come and discuss the very important subject of Urban Food Security.
At the Foxtail Lilly sale, I spent just a couple of pounds on this gorgeous little brooch: I am delighted by this.
But so many trend followers do get delighted by these shoes and detect hidden elegance and sophistication on them.
Anything you'd like to add? I have been amazed and delighted by how ready people are to support me and my wee book.
In 5% of cases delighted for is used
I? m delighted for Artur and Szabi.
Delighted for cillian he deserves it.
I'd delighted for the two of them both.
I am, however, delighted for the distance I have come and that my hard work paid off.
I'd delighted for them but I'd not going to lie and say I'd rather be on three than 30.
Delighted for Rosicky, haven't seen so much joy from an Arsenal goalscorer in a long time.
I have to say I'd delighted for Alice, who hasn't really dated since her rather messy divorce a couple of years ago.
Darling Maggy, I am so delighted for you, you really deserve this award! As for your wonderful thank you ' speech '.
We were all delighted for this young couple, and I know that I was honoured to be part of this moment in their lives.
I'd delighted for him, he's been one of my favourite players in the Premier League in the 20 years I've been covering it.
In 3% of cases delighted about is used
Delighted about Henry re-signing as well.
We're delighted about East Gosford's win.
Am delighted about the move for the right.
He's more than happy to sell little bits of his soul, and I'd delighted about it.
Hello, I got your reply and am delighted about my order perfectly being processed.
I am sure you are all amazed and delighted about my candidature for the presidency.
I was quite delighted about it since dishes could be delivered as soon as the chef was ready to send out them.
Do Germans have a sense of humour? We British should be delighted about the normalisation of German patriotism.
Rather than being resentful about all the items you can't buy, you'll be delighted about the money you'll be saving.
We are delighted about the Duke of Cambridge's comments that he has been inspired by the young leaders he met in Honiara.
In 3% of cases delighted in is used
He delighted in God's redeeming love.
I am so delighted in finding your website.
Rahula delighted in the Blessed One's words.
Delighted in their dress; Comfortable in their dwellings; Happy with their customs.
I bought the album the day it came out and delighted in its stripped-down approach.
And he and Val had six more grandchildren, making 14 in total, and delighted in them all.
The owner was so delighted in the outcome that we've had a flurry of invites to return for filming anytime we please.
I have rolled the dice at Atlantic City and delighted in the joy of winning and despaired at losing my meagre fortune.
The Romans – perhaps a hardier race than ours – delighted in open-air theatres which they apparently used the year round.
She loved to look pretty and fashionable and delighted in spotty dresses and stripy tops, sparkly shoes and frilly scarves.