excited + preposition, excited + v gì, Excited with, Exciting đi với giới từ gì, Excited to V, Excited at nghĩa là gì, Đặt câu với exciting, Excellent đi với giới từ gì Excited đi với giới từ gì? Excited about, for, by, at hay over? là câu hỏi chung của rất nhiều người. Để hiểu hơn về ý nghĩa, ngữ pháp cũng như cách sử dụng "Excited" trong Tiếng Anh như thế nào, hãy cùng cafeduhoc.net tìm hiểu chi tiết ngay trong bài viết dưới đây.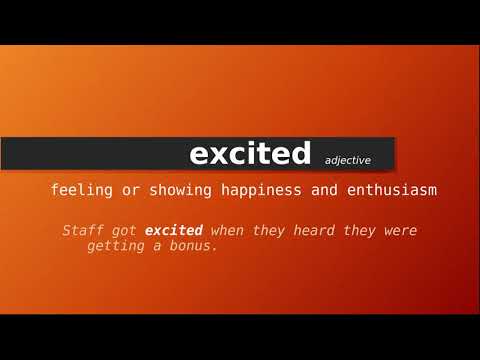 Excited là gì?
excited /ik'saitid/
tính từ

bị kích thích, bị kích động; sôi nổi

don't get excited!

hãy bình tĩnh! đừng nóng mà!
Excited đi với giới từ gì?
Excited about
The kids seem pretty excited about the holiday.
Excited at
excited at the news
She's excited at the chance to share what she's learned with others.
Excited by
He was puzzled but strangely excited by the commotion.
excited to
He said he is excited to return to San Diego.
excited 
for

(informal)

"Are you excited for your first Oscar nomination?" she asked.
Thành ngữ
be nothing to get excited about
không có gì quá đặc biệt, quá tốt:
It's a competent enough first novel but nothing to get excited about.
Đây là một cuốn tiểu thuyết đầu tiên đủ thẩm quyền nhưng không có gì đáng để phấn khích.
Độ phổ biến của giới từ sau Excited
In 65% of cases excited about is used
I'd excited about the possible.
A book I am very excited about.
Which I am super excited about.
We're really excited about him and look forward to working with him in the future.
We're all pretty excited about the game, and will be keeping you updated as we go.
I like TED talks that make me think, or make me excited about the ideas I've heard.
For the past several months, we've been working on a major update to Twitterrific that we're very excited about.
I spent Monday evening bellowing ' I 'M SO EXCITED ABOUT YOUR BIRTHDAY ' into Timothy's ear at random intervals.
Why do people get so excited about the newest, does nt make you look any better and besides month later its old.
Idea Challenges is something Rohit and Chetan are both very excited about and this is on top of the value chain.
In 15% of cases excited for is used
I was so excited for this trip.
I am very excited for the Nets.
Very excited for the challenge.
This little 1 minute 30 second intro song got me excited for the rest of the tracks.
I'd excited about writing it, and I'd excited for you that you are about to read it.
When you are excited and speak with authority other people will get excited for you.
So so so so excited for the next episode, the synopsis makes it sound like its going to be another incredible one.
After taking two mandatory practice tests, students will leave the classroom prepared and excited for the big test.
Love you and am SO very excited for you and your family and the added JOY that will shortly be a part of your home.
Aunt Sus and Uncle Scott and their crew were meeting us down there which made us even more excited for the getaway.
In 9% of cases excited by is used
Her am achieving excited by it.
Blaise was very excited by all.
I'd pretty darn excited by this.
Not copycat, but just be stimulated and excited by something, and do what feels true.
Thought we'd be very hard to beat and was very excited by the prospect of a new year.
Beach Energy's spokesman Chris Jamieson says they are very excited by their findings.
Who doesn't get excited by a generations battle of beer pong? And we all pity/despise the Jets, so it was all good.
Excited by the potential of using evolutionary unique animals to enhance man's understanding of his own genome, Dr.
That's why I'd excited by the upcoming Open Up! event that DFID is hosting with the Omidyar Network on 13 November.
As the troops get excited by the retrieval of their companion the Governor fires a bullet into one of their hearts.
In 4% of cases excited at is used
I'd even all excited at the idea.
I am so excited at these results.
I was very excited at this point.
He was just so excited at the new world he had discovered, especially the Scriptures.
Babe was too excited at the idea of meeting Capone again to pay any attention to Mom.
My children absolutely love this museum and are so excited at being able to get much.
I'd so excited at the thought of playing Russian roulette with you that I've just shot my cartridge at the thought.
Be a giving and caring Person: Become loving and excited at giving! Yes, with scripture backing from proverbs 19:6.
I am still a number of weeks off completely finishing the fit out and excited at the prospect of opening the doors.
I was disappointed for a few minutes but interested and excited at the same time to figure out who this female was.
In 2% of cases excited over is used
Get excited over water fitness.
I'd excited over the preview, tho.
And I get excited over American Idol.
Everybody's going to be much too excited over their first look at a buttonable Gwendolyn.
No need for anyone to get over excited over a day when both sets of fans enjoyed crowing.
J, our wonderful host, joined us and got excited over this food cart outside Central Park.
I do not think I have used any abusive words against Medha for some to get excited over it and call it blasphemy.
Don't get excited over getting 500 links, think of getting just one high-quality link that keeps the Penguin happy.
Snakes are another thing I love about the shouthern US, but I'd betting more people get excited over seeing lizards.
I didn't really get excited over video games until a friend insisted I find a copy of the Orange Box and play Portal.
In 2% of cases excited with is used
He also got excited with this idea.
We are so excited with his progress.
I was very excited with our team gold.
I personally think she carries them so well that I was super excited with the idea.
We where excited with the state of the art Dual Core processors, with a gig of ram.
December 17, 2011 Shaggy excited with Grammy nomination, optimistic about 2012 By M.
Right from the beginning I became consumed with the movie, getting more and more excited with each minute passing.
There's a lot of unpicking involved because I soooometimes get a little too excited with sewing really really fast.
He seemed pretty excited with that, and I think we can be more specific with him for the next Presidential election.
The fans? The majority I speak too are far more excited with what the future of Alex Oxlade-Chamberlain has to offer.
In 1% of cases excited in is used
I was so excited in the last few laps.
I am actually quite excited in a strange way.
I was so excited in college to learn the psych.
Also, I'd very excited in new training methods, injury issues, etc in relation to running.
Ah well, it wouldn't be the first (or the last) time I've gotten excited in a grocery store.
I like how logical it all sounds and I am actually quite excited in trying this product out.
What would inspiration feel like? Perhaps you would feel excited in the morning, bounding out of bed to seize the day.
Thankfully I am spending December in NYC – it's my first visit and I've never been more excited in my entire young life!
We feel excited in creating a series of examples of social businesses, which, hopefully will encourage others to join in.
The feeling is that there is still plenty of time to prepare and that there is nothing to get excited in the here and now.
In 1% of cases excited on is used
Got excited on how the rest will look.
He was pretty excited on the first day.
Messere gets too excited on a flipwhip.
We are so excited on seeing our losses that we are willing to cover them as soon as possible.
Kufans became excited on the day of al-Hasan, so they called up other four thousand fighters.
Restrict yourself from being too excited on a new tool resulting to a sudden workflow change.
The lines moved pretty quickly and everyone seemed excited on what they wanted to do, who they wanted to see and so forth.
My life will change dramatically when I move and I'd trying to prepare myself for that, even though I'd excited on many levels.
He was that excited on the adrenaline of me playing my first Test and winning it, him being in the dressing room with all the boys.
It was much easier for them to take in the parade because it allowed them to see over the crowds of hundreds if not thousands of excited on lookers.
In 1% of cases excited to is used
I'd excited to see the Katinas.
I was so excited to frost the cake.
So now, I am excited to see them again.
It was such a fun night and I'd so excited to post it up! Enjoy the videos, check out.
We had a second round of engagement photos taken, which I'd super excited to post soon.
I am excited to apart of this blog and help shape Michigan to be a leading pro-life state.
But they are excited to welcome us and show us the land that they are in the process of turning into their livelihood.
But of course, being home just before Hallowe'en at home meant that they were super excited to trick-or-treat here, too.
Byron's pretty excited to not have to get up and go to school, &; i'd excited not to have to make lunches in the mornings.